Did you love watching the Lone Ranger on television when you were young? Are you a Johnny Depp fan? If so, you will have a chuckle in the new rather farcical movie The Lone Ranger.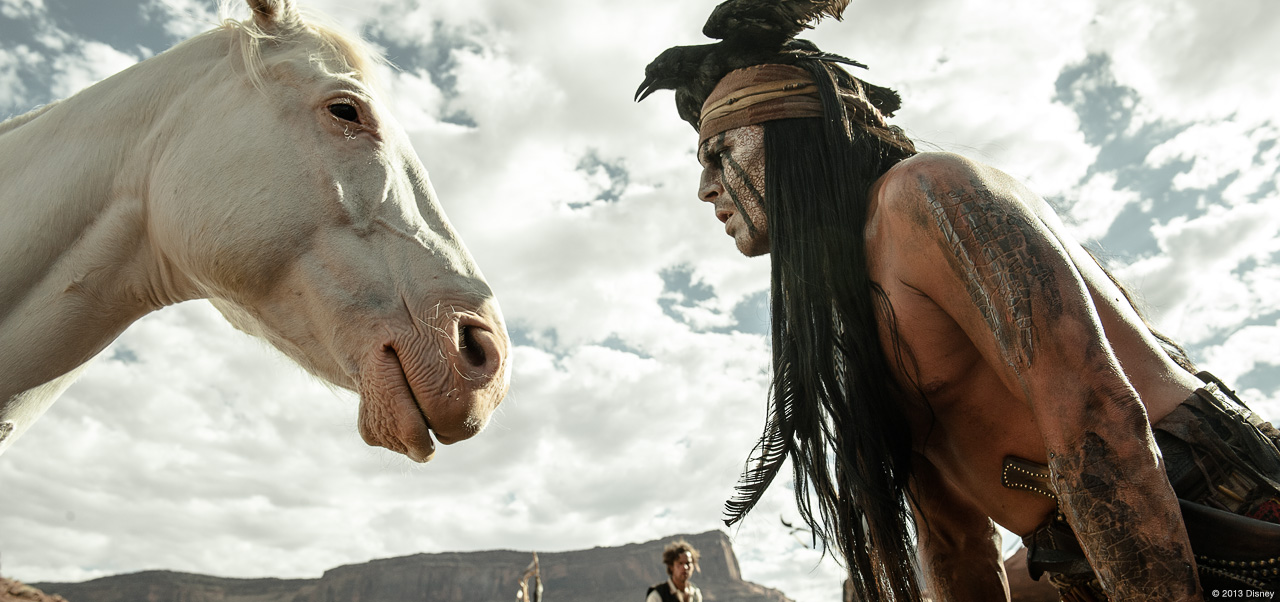 Silver, the horse, has a major role. I am reminded of the white horse who lived in the pasture at the end of our street in Tacoma, WA. All the neighborhood kids called him Silver, having no idea of his real name, and we rode him bareback surreptitiously. We never saw his owner. He/she must have come to feed him long after we had been called in by the dinner bells. The Silver in the film, however, is a horse of another sort altogether. But I won't spoil the fun by telling you any more. Except that you might be a little disappointed in the performance of Armie Hammer who plays the ranger. Everything else is campy and fun as you would expect from a film that features Johnny Depp and Helena Bonham Carter (my favorite villainess).
But this post is about another sort of silver. For years, my sister Rosalind and I have shared our silver. For every wedding, shower, anniversary party, family reunion, birthday party, etc. happening in our circle of friends, we would polish our silver and pack into laundry baskets and haul it to the event.
At some point, we realized we rarely used our silver except when we were together, and thus hit on packing it into a common suitcase with wheels to make it more convenient. Sometimes the suitcase was at her house, sometimes at mine. To be honest, over the years, we got a little lazy and only polished the pieces we were using for a particular event. And one large tray, it seems never got its bottom polished at all.
1/4 of a jar of Wright's before I began to see the silver glimmering through the tarnish
As I opened the suitcase this morning to polish the trays for my sister's Memorial Service, (2:00 p.m. July 12, St. Mark's Episcopal Church, 432 Richmond NE) I was joined by all the ancestors who had polished these pieces with care or perhaps with annoyance. I love that they have left something they cherished to remind me of their lives.
My brittle, fragile great-aunt Ellen, who could not bring herself to touch a child but lifted the heavy ornate trays that were required to entertain her husband's oil business cronies with ease, watched me carefully to make sure I did not scratch them.
My great-aunt Mary admired the ornate pitcher given to her as a retirement present, kindly pretending not to notice the dents in it. This piece is double walled to keep the condensation down, so would be horrendously expensive to repair.
My Mother fusses, "Don't work so hard Heather, you can do some tomorrow, you know" as I was washing and drying her favorite tray.
Rubbing the the Wright's Silver cream over the tea service my Aunt Clara and Uncle Ben gave to me when they moved from Easton, MD to Albuquerque, my darling Uncle Ben is interested in knowing what we will serve at Rosalind's last tea party. He is hoping for ice cream, something he was not supposed to eat after an early heart attack but had "just a small one" when treating us to Baskin Robbins.
Rosalind, herself, reminds me that she requested we not go to a lot of trouble, and why did I think it necessary to serve tea sandwiches? Since I knew she wasn't really able to argue with me, I ignored her. But I did spend the rest of the morning thinking of all the lovely times we spent sitting in her kitchen or mine planning parties, laughing, teasing, and modeling gracious living to my three daughters, and their friends who came and went, and less frequently my
brother's daughters, visiting from Texas.
I will not have too many more years with the energy to keep the silver polished and it will be time to pass this legacy onto the next generation. There are five young women (all Rosalind's nieces) who have been tutored into party planning but who are taking a liking to their own styles. Some of them may sell their share of this lovely silver, some may pack it away to pass onto their own children, but I hope some will use it and remember Rosalind and the sister who loved her and the parties they shared.
I am wondering if you use silver? Or are do you favor wood and pottery? Or maybe disposable goods are all you would consider using when entertaining more than just the family? Please leave a comment below or email and let me know how you feel about polishing silver.